4K MultiFunctions Audio&VideoMediaplayer - 1x Digital Output - Soundbar Tester
4K MultiFunctions Audio&VideoMediaplayer - 1x Digital Output - Soundbar Tester
Product Code: AC-AUD1508-4.0-4K+1xOptical
---
30-day money-back guarantee
Free Shipping in U.S.
Buy now, get in 2 days


4K Multifunctions Audio & VideoMediaplayer
 This multiple functions 4K mediaplayer is especially made to test one or more soundbars (max 6) and it is made for in-store use, so let customers test the soundbars. It is easy to swap from one soundbar to the other.
=> The sound can be easily be compared between the soundbars.
In this video you can see how it works and functions also for press buttons. In this video we have made a setup for 1 soundbar. The press buttons are customized programmed for Play-Stop, Next, Mute Sound and Volume up and down.
The video output can be up-to 4K resolution and the Audio file formats can be PCM, RAW and MP3.
Video formats can be: ".avi", ".mpg", ".mpeg", ".mp4", ".mov", ".mkv",".jpg",".jpeg",".bmp".
We can customized this mediaplayer upon your needs.
Audio Test and Learn

In-store solution for Headphone and Speaker Brands. Test headphones or/and speakers, which guide you to the product which will suit you the most.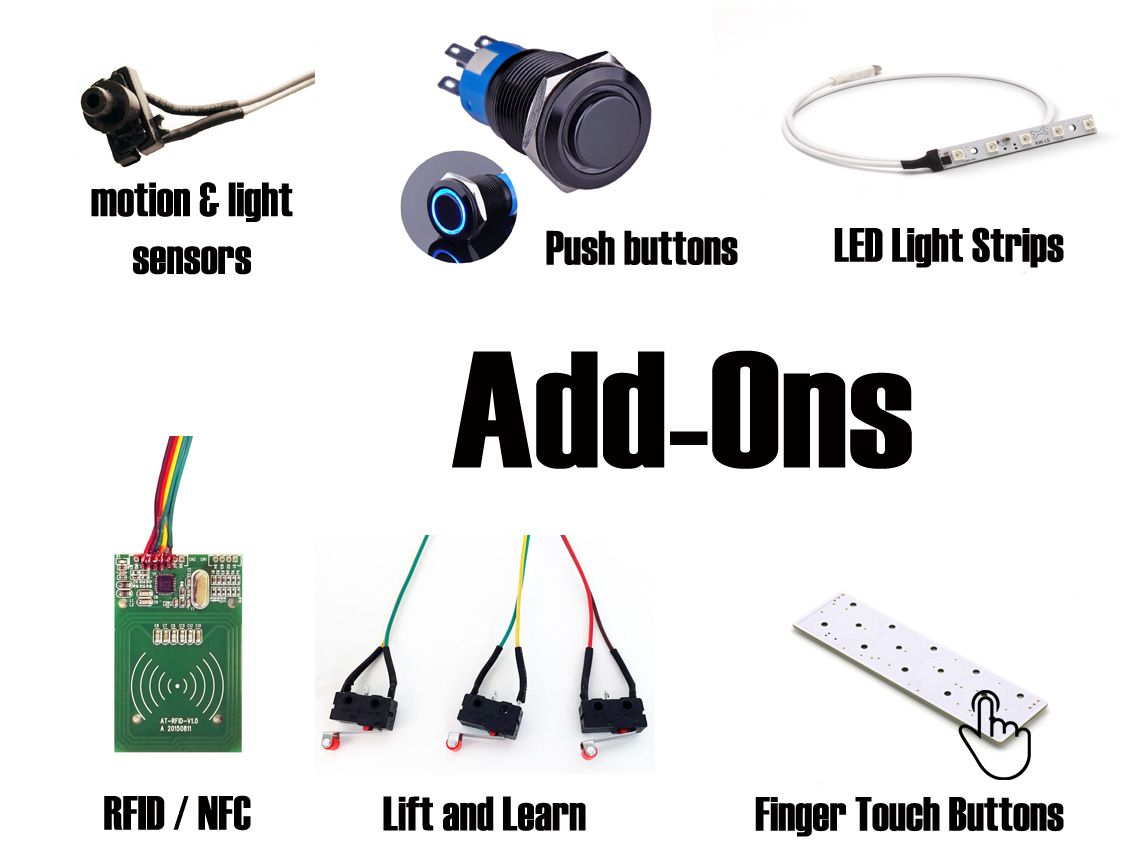 Add-On features

We can provide several triggers, sensors and LED Lightning features to create a interactive display. These add-ons can be plugged in our devices at ease: just plug in the cable-connector and play. No difficult programming, just rename your content and load it on a SD card or USB Stick or use the internal memory.
Use LED light strips or pads to highlight a product or logo. The Led can come in all kind of colors and shapes.
We have also have Add-ons for Android, Linux, Windows and Brightsign mediaplayer. External triggers can be connected via a controller-player to a Android Screen via USB or RS323 connection. You can add the source code (API) into your APK software solution.

| | |
| --- | --- |
| Screen type | Connect any size screen to this player (1080P / 4K) |
| Interface - Connection portals | 8x PushButton Inputs , HDMI OUT , SD Cardreader , LAN input for Internetconnection - RJ45 , Digital Sound Output 1x (optional 6x) , 3.5mm Jack , Power Input DC 12V/1A , 2x USB 2.0 |
| Resolution Internal VideoPlayer | 4K , 1920*1080 |
| Housing type | Closed metal housing |
| Start-Up | AutoStart by plug-in the power-adapter |
| Mounting options | Mounting Strips |
| PowerAdapter | AC 100/240V-50-60HZ, DC 12V/1A |