New LCD solutions on Android OS base
Super Fast Triggering

This 11.6inch Android Screen is connected with all kinds of triggers and sensors. After activation of one of the triggers / sensors, it will show a video on the screen, in a blink of an eye.
This system works on Android OS base and has particular software and hardware to connect the triggers and sensors and let them work, plug and play. Super easy setup and no programming needed.
Just rename and upload your videos to a USB Stick or Internal memory and you are ready.
If you do not need a screen, or you already have a Monitor-TV, then you can also use our 4K Android Mediaplayer, with the exact same functions. You can find this product on our website.
Touchless Sensor Button

Move your hand above the button:
Trigger content or tune the volume
Your Picture

The reaching distance is up to 20cm. Move your hand over the button reaching-area for activation.

Possibilities:
- Trigger content
- Adjust volume

Click here to jump to this product.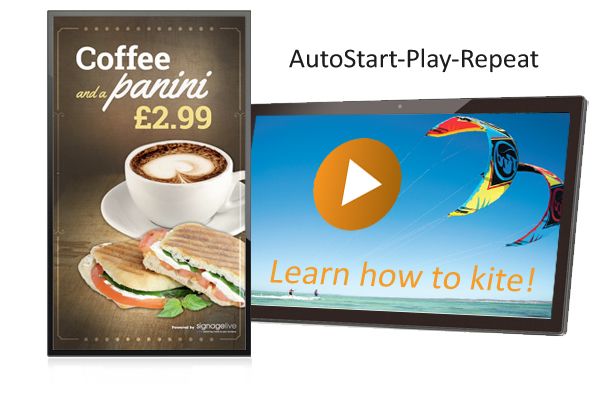 Our MonitorScreens show a video or slideshow with information about products and their characteristics! We have different types of enclosures for installation and construction. In addition, several additional opportunities for interactivity; Activation buttons, touchscreen, motion sensor, etc.
One of our clients has created for Tom-Tom sports-watches nice touchscreen-kiosks. This picture is one of these kiosks in the Asics Store Amsterdam. The Android screen has a touch screen and a pre-installed custom app. The app is locked in the Android software. Visitors can stop by for specific information and explanation, also online via WIFI & LAN or even 4G.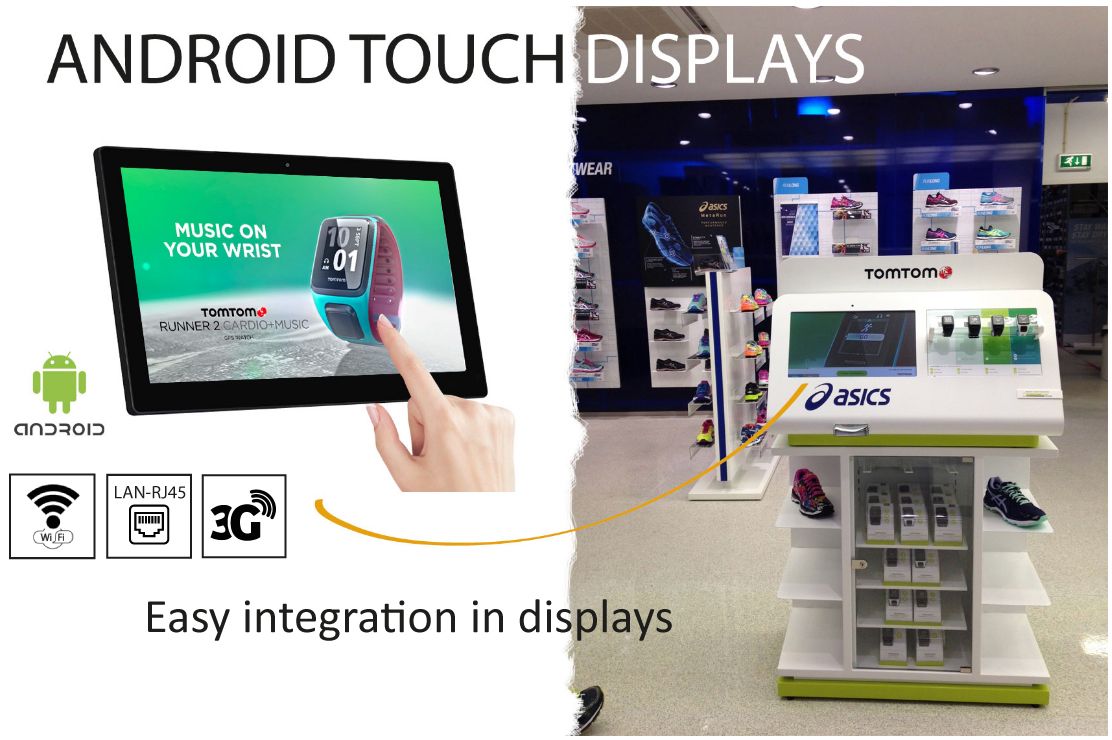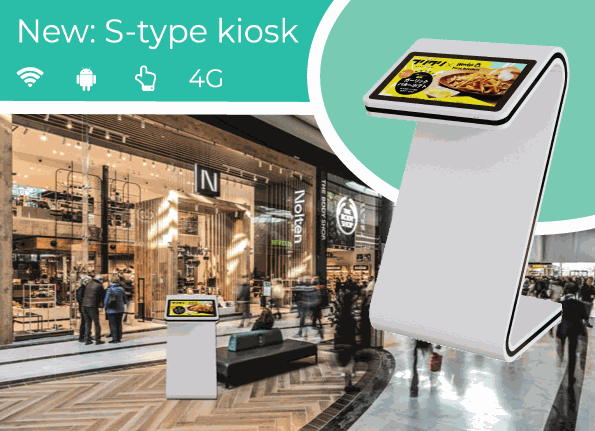 INFO KIOSK

All kind of types of Kiosks are available.
With or without Touchscreen.
Additional with:
- Printer
- QR-Barcode scanner
- NFC - RFID scanner
Please contact us to let us know your needs, so we can offer you the correct type of model.
DISCOVER MORE INFO
Round and square shapes

Attractive new shapes.

Round shapes find here more info:
Square models find here more info:


Magic Mirror LCD + sensor



When you approach the Mirror a video or message will be shown on the mirror. Once the video is ready, it will return to a normal mirror.
You can choose your own area in the mirror to show your message.
The motion sensor to activate the video has a delay of example 30 seconds after playing your message.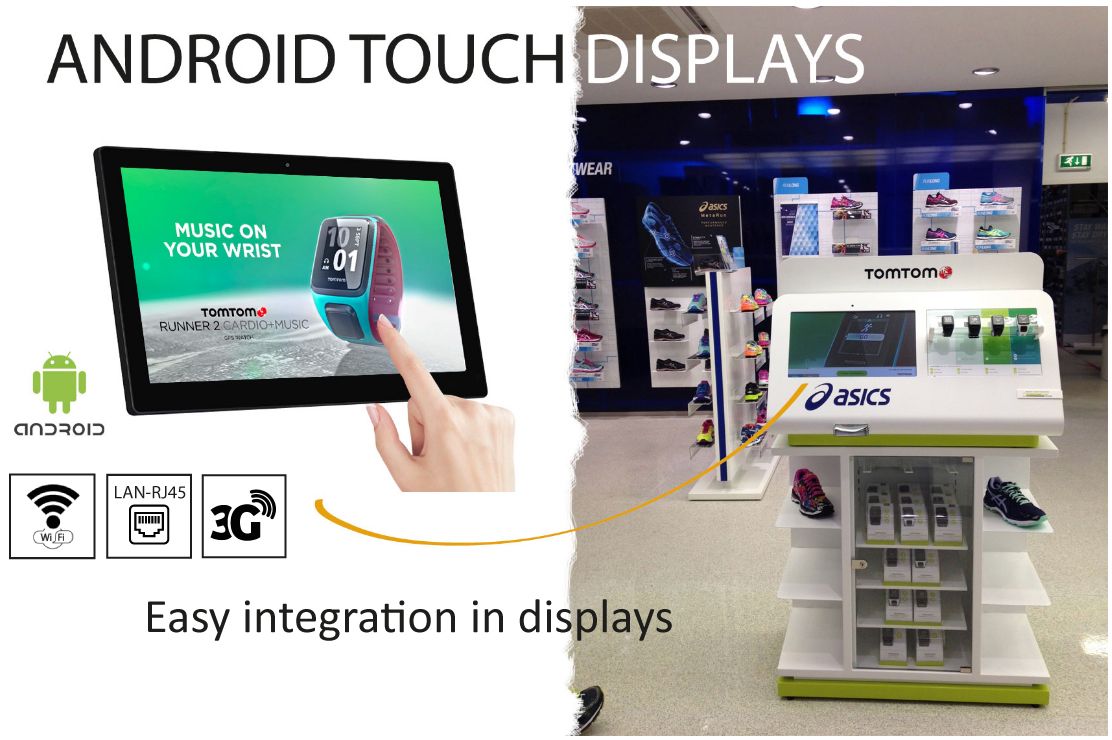 Touchscreen in Floordisplay

An Android touchscreen 15,6", with customers app installed. We can do pre-installations at the factory. Online CMS portal possible. Displays have WiFi, LAN, 3-4G options. Check our models here:
Android Screens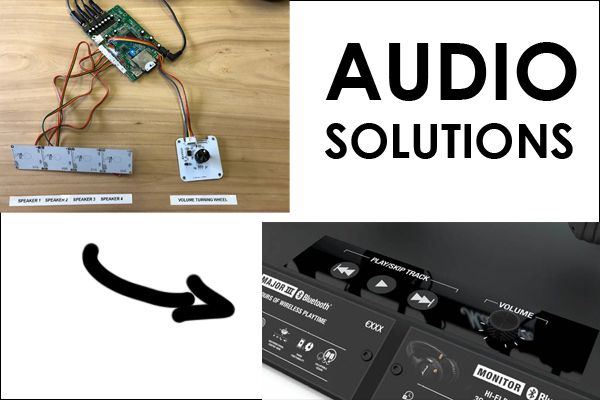 Audioboard with Multi Add-ons

Our Audioboards can have all kind of add-ons:
PressButtons, Touchbuttons, VolumeKnob, LED lightStrips, MotionSensor, LCD screen, Lift & Learn features etcetera. All tailor-made upon the required needs. Check our
AudioBoard Solutions
!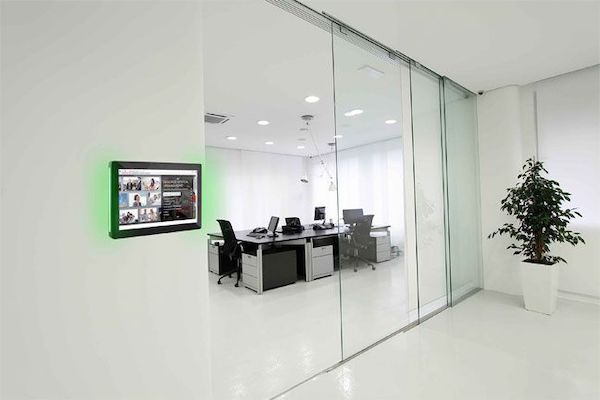 Room Booking Displays

At the entrance of a meeting room, these screens can tell you who has made a reservation at what time. The LED bar at the sides indicates if a room is occupied (red) or free (green). Our Displays have rooted Android to install your own Room Booking software on it! See our models here.