4K SoundBar Demonstrator - supports ATMOS Dolby with 4x HDMI Output
4K SoundBar Demonstrator - supports ATMOS Dolby with 4x HDMI Output
Product Code: AC-4KMP-ATMOS-1508-V4-PWR-V17-4xHDMI-2.0
---
30-day money-back guarantee
Free Shipping in U.S.
Buy now, get in 2 days
Dolby Atmos Soundbar Demonstrator
In this video, we give a demonstration of how this Dolby Atmos Player is working. Which main features it has.


This player can be used in retail stores where they will sell electronic consumer devices such as soundbars for home entertainment with TV (retail stores like, Mediamarket, Expert, EP, BCC, Elkjop, Elgiganten etcetera)
You can connect up to 
4x Soundbars with HDMI IN and OUT

, to test the Dolby Atmos Sounds and Videos. It also has 3x Optical Outputs for sound. You can combine soundbar types with HDMI and Optical as well.
With selection buttons, you can choose a soundbar and hear the quality of the sound. At the same time you can see a video on the screen about that soundbar or just a nice demonstration video. You can swap very easy between the soundbar sound, while the same video is still running.
You can have a clear understanding of the difference in sound between the soundbars.
Easy update you content by AutoUpdate feature with a USB stick. Additinally, we can add LED light strips of panels to put under the soundbars. If you select a soundbar it will light up the choosen soundbar (+ woofer).
How to connect it?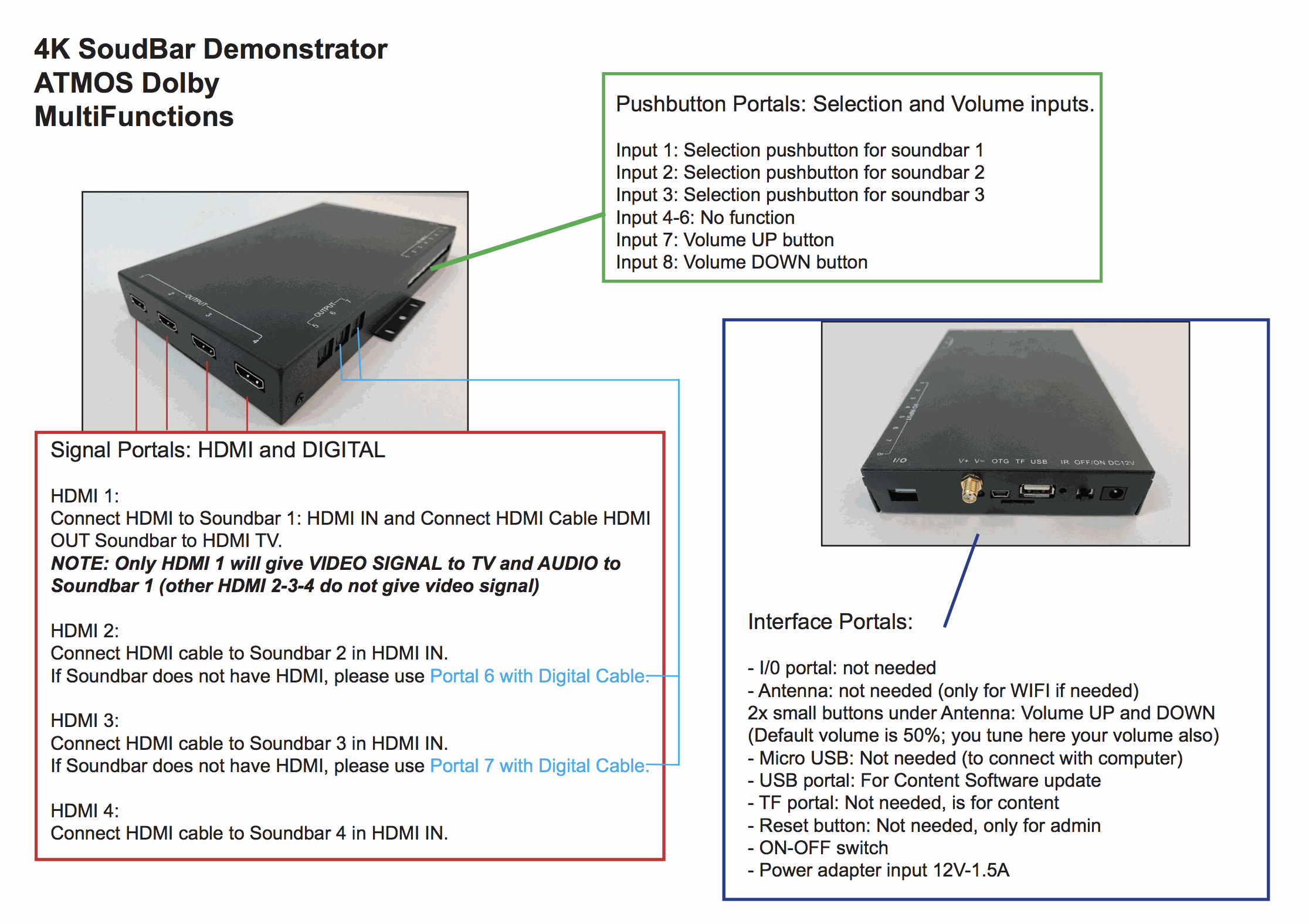 "Soundbar testing on a professional way, we can help you"
Besides soundbars, we also do have many solutions for normal speakers and headphones.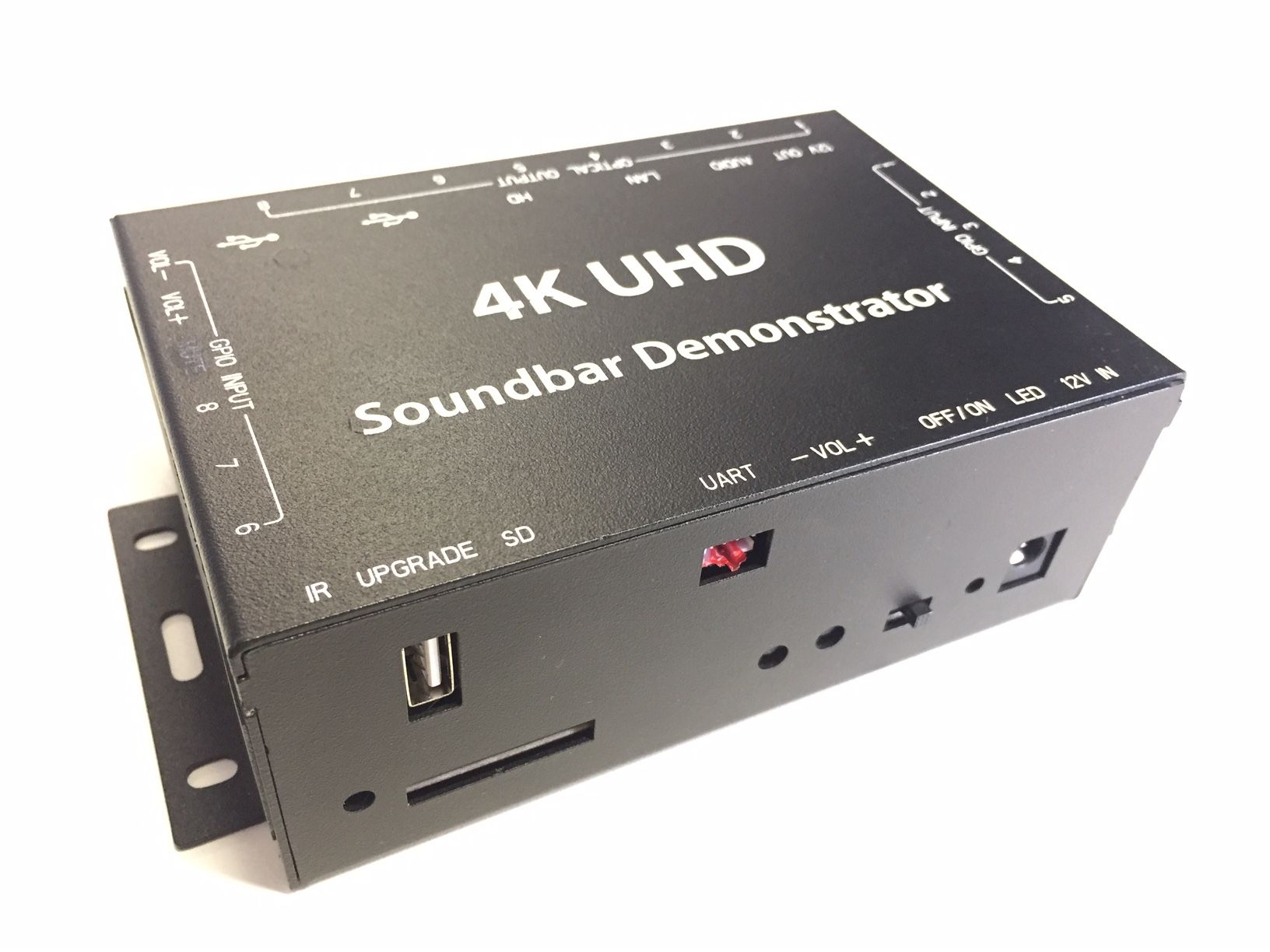 4K Multifunctions Audio & Video MediaPlayer
8x Digitial output + interactive RGB LED strips

This multiple functions mediaplayer is especially made to test one or more soundbars (max 8) in-store.

It is easy to swap from one soundbar to the other. The sound can be easily be compared between the soundbars by pressing on one of the pushbuttons. You can also watch the video about the selected Soundbar on a TV monitor.
We can add for each Soundbar and Subwoofer a LED Strip, which can highlight the selected Soundbar / Subwoofer. The customer can easily see which soundbar is playing.
Easy programming your pushbuttons and led strips by simple XML scripting. Copy your video content and XML file on a SD card, plug it into the mediaplayer and you are ready to go!

We can customized the features on this mediaplayer upon your needs. 


Audio Test and Learn

In-store solution for Headphone and Speaker Brands. Test headphones or/and speakers, which guide you to the product which will suit you the most.
| | |
| --- | --- |
| Screen type | Connect any size screen to this player (1080P / 4K) |
| Operation System | OS Android version 6.0.1 |
| Interface - Connection portals | 8x PushButton Inputs , TF cardreader , USB Portal , Antenna for WIFI , 2x Pushbutton input for Volume UP-DOWN , 4x HDMI OUT , 3x Digital Sound Output , OTG portal , IR eye hole , ON-OFF switch , DC 12V IN |
| Resolution Internal VideoPlayer | 4K , 1920*1080 |
| Housing type | Closed metal housing |
| Start-Up | AutoStart by plug-in the power-adapter |
| Mounting options | Mounting Strips |
| PowerAdapter | AC 100/240V-50-60HZ, DC 12V/1A |
| Software | Supports Atmos Dolby , XML Scripting, auto update by USB Stick |