21,5inch MediaScreen Set - LCD Panel - Components Only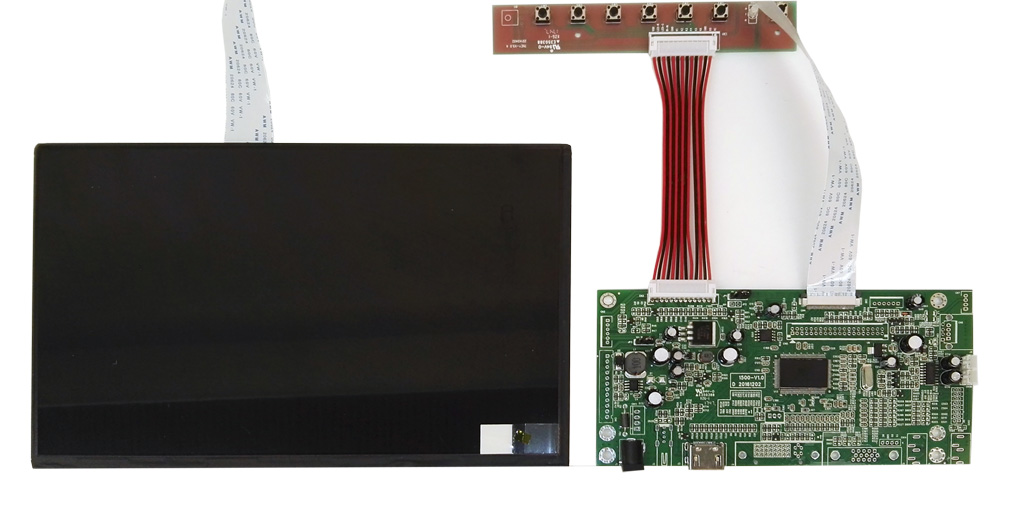 21,5inch MediaScreen Set - LCD Panel - Components Only
Product Code: AC-215NF-HD-COMP
---
30-day money-back guarantee
Free Shipping in U.S.
Buy now, get in 2 days
21.5inch MediaScreen - No Frame - Components only

- AutoStart when you switch on the shop electricity
- Plays directly the Video and / or Slideshow when you turn on the display
• HDMI IN to connect an External Source
- Auto Loop: plays video / slideshow continuously in a loop.
- Auto ON-OFF clock to set up shop opening and closing times.
- Optional: OTG Function: AutoUpdate content by USB Stick (please request us!)
- Additional: Interactive triggers and sensors, see below more info.


These models are available in: 11.6 / 15.6 / 17.3 / 18.5 / 21.5 / 24 / 27 / 32inch
MediaScreens: How does it work?

Watch the video to see how our MediaScreens work and what can be added additionally.
In this video we demonstrate our closed frame and open-frame mediascreen models and also some short demonstration about external features, such as External selection buttons, RFID trigger, LED lightning and Motion sensor.
You can find more information about the additional triggers via the section: Add Ons - Triggers, Sensors & Light
ADD ON's for these screens:


List of Features
easy setup and plug and play!
Auto Start - Play - Loop your content (video/slides)
Timer Clock Function (Optional)
18.5" IPS panel 1280x800 pixels
HDMI IN & Internal HD videoplayer 1080P
SD cardreader and USB portal
Internal Speakers
3.5mm Jack Output
Remote Controll
No Frame
No Mounting
Color housing standard Black
12V Power adapter with 2.5 meter long cable
14/7: Usage up to 14 hours a day
USAGE:
This MediaScreen has an Internal VideoPlayer with Full HD resolution (1080P). Plug in a SD card or USB Stick with your content and directly play your video (or slideshow). It will play your video(s) continiously in a loop. The timer function can be used for Automatic On-Off (optional, not included.
Purposes
can be used in many places
Digital Signage Display



Built-in ShopDisplays




Shelf-edge Display
CounterDisplay


ADD INTERACTIVE FEATURES:
- Trigger Buttons for selection video / volume combined with LED lighting
- Output for LED lightning 5V/12V
- Motion Sensor / Lift-up light Sensor
- Multiple Audio Outputs for Speakers & Headphones
- Input Audio for Mobile Phone / iPod (auto-sensing)
- TouchScreen
- External Speakers
- 8D-Cell Batterybox for battery operated power
- Internal Memory to load your content on it.
- AutoCopy function by USB Stick to internal memory.- Software adjustments for you needs
| | |
| --- | --- |
| Screen size | 21.5inch |
| Screen type | LCD screen only - no touch |
| LCD Panel Type | LCD Panel |
| LCD Panel resolution | 1920*1080 |
| Ratio | 16:9 |
| Optional Features | External Trigger Buttons , External Motion Sensor , (External) Liftup Sensor , External LED strips , (External) RFID Trigger , (External) Touch Buttons - capacitive , (External) Light Sensor , (External) Magnet Trigger , (External) Pushbuttons , (External) Barcode Scanner , (External) Speakers , (External) Volume buttons , (External) IR receiver , LED Light Strips |
| Interface - Connection portals | HDMI IN , SD Cardreader , USB Portal |
| Housing type | No Frame (components only) |
| Usage | 14/7 |
| Addition Features | Internal Mediaplayer 1080P |
| Function | Monitor - HDMI IN |