19inch Long Stretched Shelf Display - Non Touch - Android 8.1
19inch Long Stretched Shelf Display - Non Touch - Android 8.1
Product Code: AC-190MF-AIO-WS-UN-SHELFVIDEOWALL
---
30-day money-back guarantee
Free Shipping in U.S.
Buy now, get in 2 days
Shelf Strip LCD - an introduction video

We introduced this product on the ISE Amsterdam Exhibition.  
LCD Shelf Strips


LCD Shelf strips can be used under your products directly attached to the shelf. It can show your content directly on the screen, like video, logo's, pricing, teksts etcetera.
You can use it as a single screen or as videowall (multiple strips are connected together as one big display, daisy chained by HDMI cables).
Available in several sizes from 20cm up to 120cm long: 8-47inch models.
We have various models: 1. Monitor models with HDMI IN&OUT, 2. Internal Android with WIFI and 3. Internal Mediaplayer for looping content.
If you have any questions, please let us know.


Information about Google Services

NOTE:
Google Play store is not always working in some regions, but do not be afraid: most of the times you do not need this store. You just can install your own/clients (signage) APK by USB Stick or download it from a website and install it. Quiet often, you can download APK files from www.apkmirror.com or www.apkpure.com or ask your client for the APK needed to install.
The benefit of not using the Google Playstore: you are not being watched by Google and Google will not get your userdata which you do not want to share with them anyway.

PS: if you really need Google Playstore, we can check if it is possible, but only for larger order quantites.
Wide stretched LCD

All kind of sizes
Can come with HDMI IN, internal videoplayer and Android OS with Wi-Fi and LAN connection.
List of Features
easy setup and plug and play!

Auto Start - Play



19" Panel - 1920x158 pixels
External player with HDMI needed
Closed Metal Frame
Color housing standard Black
12V Power adapter with 2.5 meter long cable
14/7: Usage up to 14 hours a day 
Purposes
can be used in many places
Digital Signage Display




Built-in ShopDisplays


Advertisement Display


OPTIONAL:
The mainboard can be turned into a multi-functionboard, serveral in-outputs can be added, and software can be made tailormade. Example features:
ADD INTERACTIVE FEATURES:
- Trigger Buttons for selection video / volume combined with LED lighting
- Output for LED lightning 5V/12V
- Motion Sensor / Lift-up light Sensor
- Multiple Audio Outputs for Speakers & Headphones
- Input Audio for Mobile Phone / iPod (auto-sensing)
- TouchScreen
- External Speakers
- 8D-Cell Batterybox for battery operated power
- Internal Memory to load your content on it.
- AutoCopy function by USB Stick to internal memory.
- Software adjustments for you needs
Available Sizes for stretched models
The operating system can be: Android or HDMI or Interal Player

Add our Digital Signage Software: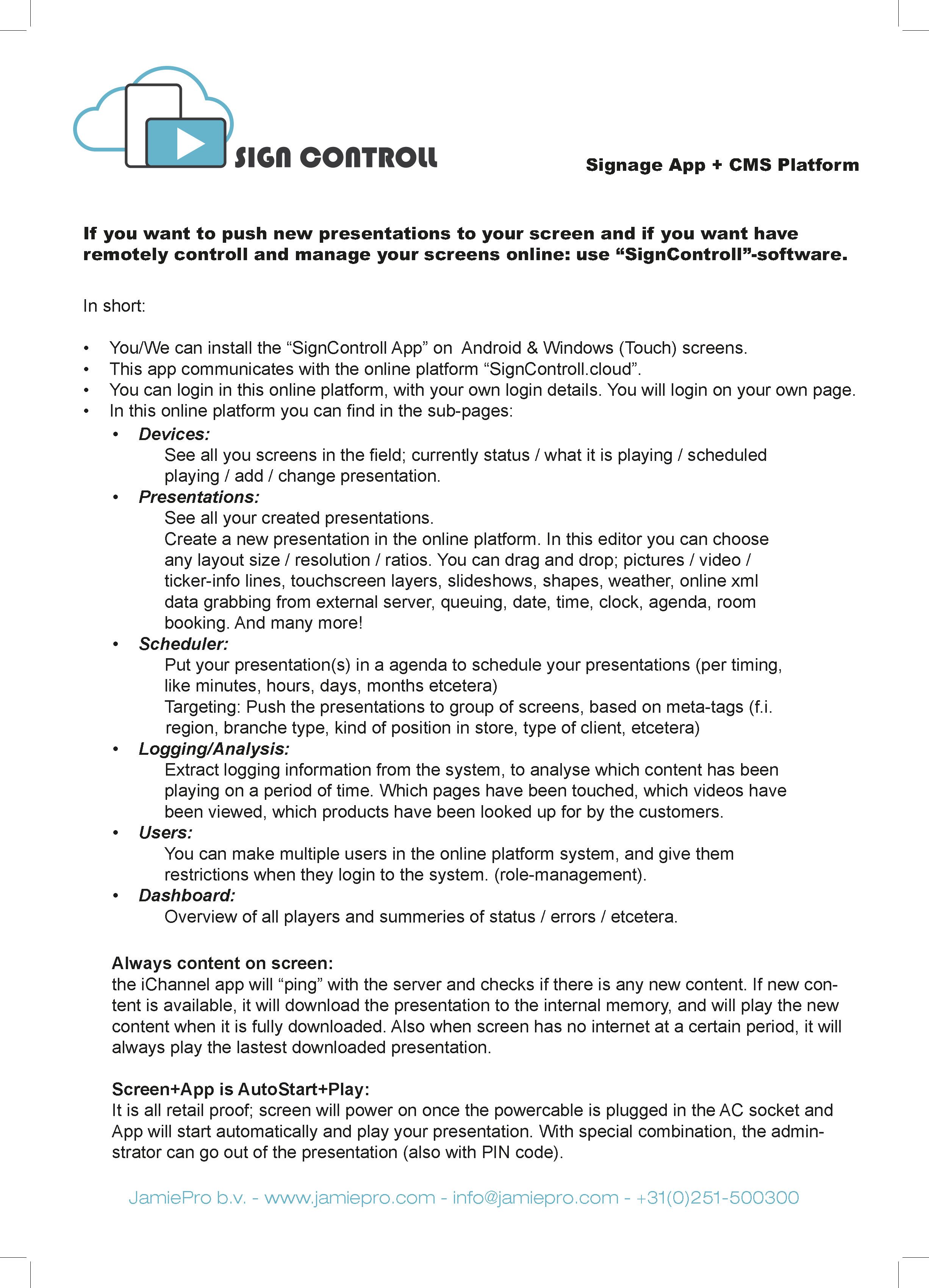 | | |
| --- | --- |
| Screen size | 19inch |
| Screen type | Non-Touchscreen , Ultra Wide Stretched |
| LCD Panel Type | LCD Panel |
| LCD Panel resolution | 1920*360 |
| Operation System | RockChip PX30 , Android 8.1 |
| Interface - Connection portals | TF cardreader , USB Portal , Mini USB Portal , Power Input DC 12V/1A |
| Resolution Internal VideoPlayer | 1080P |
| Housing type | Closed metal housing |
| Start-Up | AutoStart by plug-in the power-adapter |
| Usage | 14/7 |
| Network options | Wi-Fi |
| Speakers | 2*2W |
| Memory | RAM 1GB - Internal Memory 8GB |
| Accessories | Power Adapter |