15.6inch Android Hand Sanitizer Display - Non Touch
15.6inch Android Hand Sanitizer Display - Non Touch
Product Code: AC-1562AIO-SANITIZER-OS7.1-RK3288
---
30-day money-back guarantee
Free Shipping in U.S.
Buy now, get in 2 days
15,6inch Sanitizer Kiosk with LCD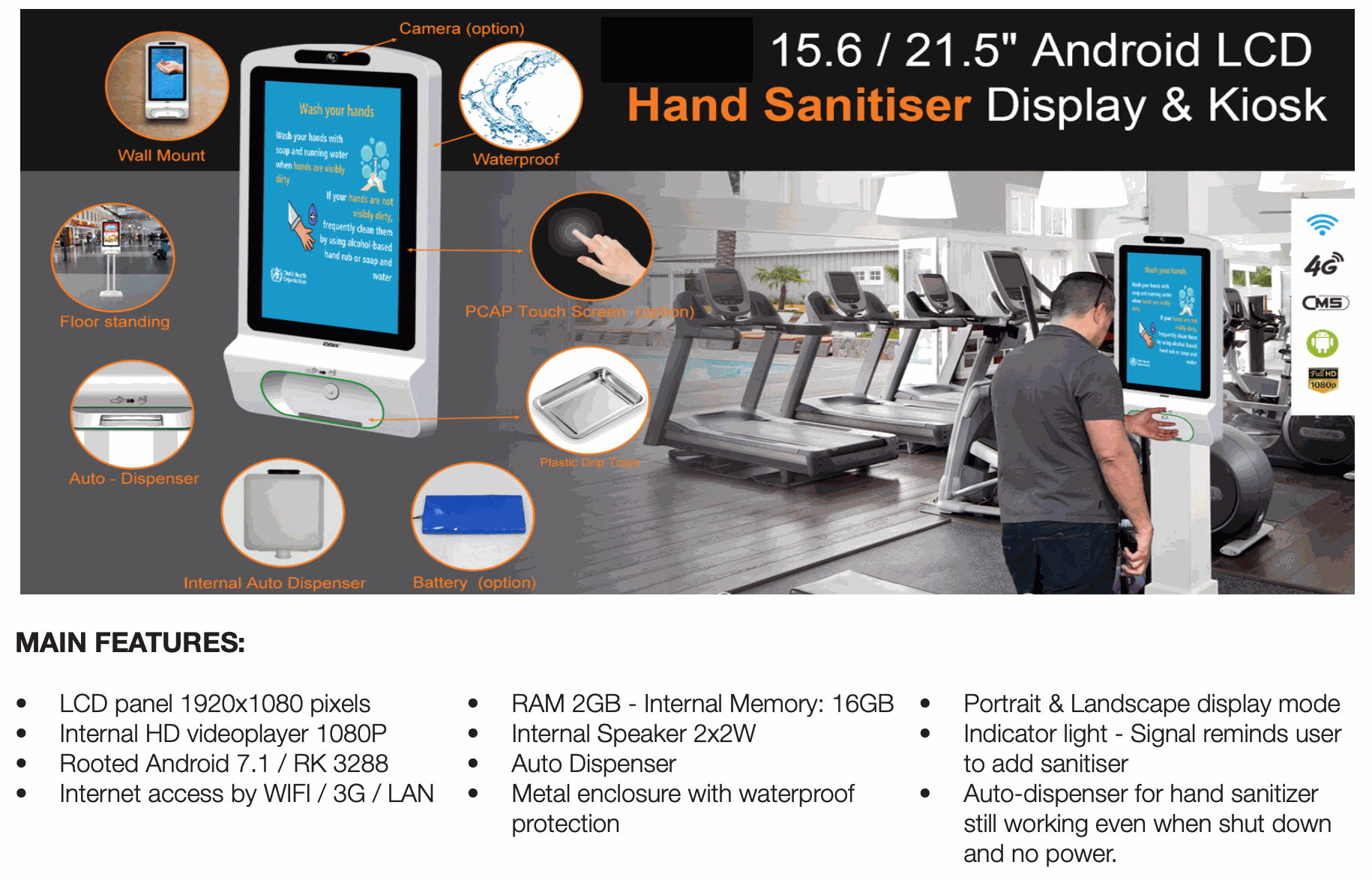 OPTIONAL FEATURES:


These LCD display desinfection kiosks have Android OS on board, which means you can add extra features such as:

Counting People Camera:
=> can also come with Counting people sensor-camera; how many people are currently in the shop. It can give on Screen signal:
- Allowed to enter the shop (Green screen)
- Not Allowed to enter the shop (Red screen)

- Temperature Sensor (body temperature)
It measures the temperature of the person in front of the display and give the Temperature in the Screen and if you are allowed to enter the shop.

- WIFI and LAN of internet connection
You can update content remotely on the screen with online webbased CMS System

- Motion Sensor
If you come closed than 2 meter in front of the screen, the screen will play dedicated content.

- Printing Sticker / Color housing
We can do a printing stickers on the frontside of the housing. (see also picture enclosed)
Color housing: standard total white housing. Optional in your RAL color.



Dutch: Desinfectiezuil / Desinfectie Zuil
Information about Google Services

NOTE:
Google Play store is not always working in some regions, but do not be afraid: most of the times you do not need this store. You just can install your own/clients (signage) APK by USB Stick or download it from a website and install it. Quiet often, you can download APK files from www.apkmirror.com or www.apkpure.com or ask your client for the APK needed to install.
The benefit of not using the Google Playstore: you are not being watched by Google and Google will not get your userdata which you do not want to share with them anyway.
PS: if you really need Google Playstore, we can check if it is possible, but only for larger order quantites.
| | |
| --- | --- |
| Screen size | 15.6inch |
| Screen type | Non-Touchscreen |
| LCD Panel Type | IPS Panel |
| LCD Panel resolution | 1920*1080 |
| Optional Features | Wall Mount & FreeStanding , Temperature Sensor (medical sensor) , PIR Motion Sensor , 4G Lit network , Lithium Battery for 18h working , Camera |
| Operation System | Android 7.1 - RK3288 |
| Housing type | Metal White Housing |
| Network options | Wi-Fi , LAN network |
| Memory | RAM 2GB - Internal Memory: 16GB |