15.6inch Sanitizer Display - Non Touch - Wall Mount
15.6inch Sanitizer Display - Non Touch - Wall Mount
Product Code: RS-156SDCAZ-AIO-OS7.1-RK3288
---
30-day money-back guarantee
Free Shipping in U.S.
Buy now, get in 2 days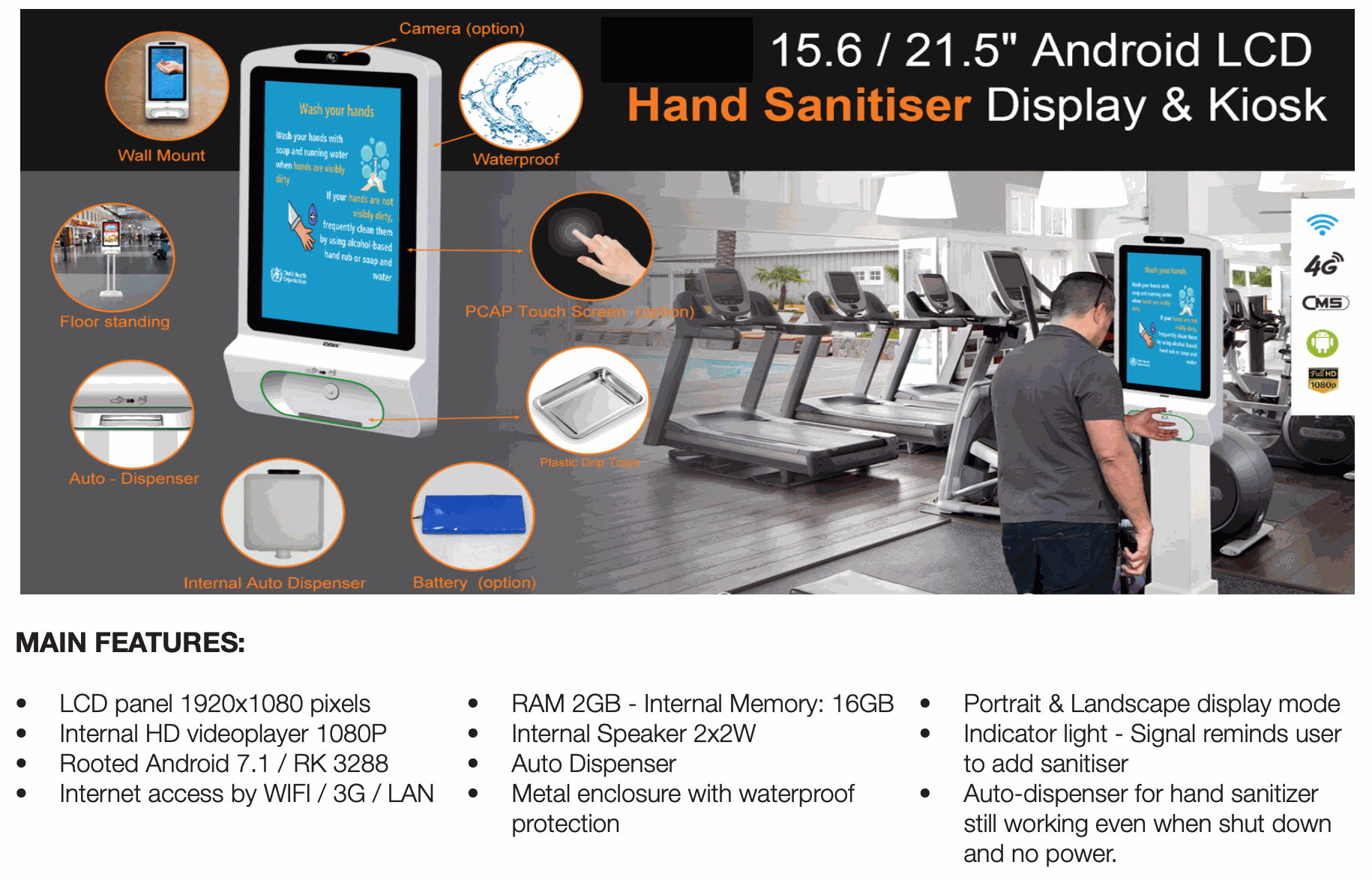 Sanitizer Display - Wall Mount

This Sanitizer Display can be used in an environment where hygiene is important and is therefor ideal for public spaces. Hygiene is very important in order not to transmit diseases and bacteria to others, such as the Corona virus. Washing your hands regularly with soap and water avoids cross infection, however in public spaces soap and water are not always at hand. The Sanitizer Display enables you to disinfect your hands very easy and avoid transmitting bacterias. At the same time it can display important health messages or adverts. The Display includes a hand sanitizer to clean your hands and has an internal Auto Dispenser and Plastic Drip Tray.
When you place your hands in the opening of the display, the sensor will detect your hand, the light will turn green and gives the exact amount of disinfectant gel.
Light will show hand gel volume in 3 different colors, full, medium or empty. When refill is needed, it is easily detected.
In public spaces such as retail shops and evenmore where food is, hygiene is very important. In an environment where you can order food at f.e. a self service kiosk, the Sanitizer Display is an excellent recommendation. The screen is available in Touch & Non Touch.
Also in gyms, it's important to exercise on clean machines, this prevents transmitting diseases and bacterias.
Make sure your customers disinfect there hands before using your fitness equipment. Clean hands means clean machines!
Additionally, we can provide you our
Signage Software (SignControll)
with online CMS system (standard not included, find more information on the last page). We can also install your software on the devices for larger order quantities.
The Display has a Rooted Android 7.1 operating system with a RockChip RK3288.
The screen is waterproof and is available in two kind of options, Wall Mount or with Floor Stand.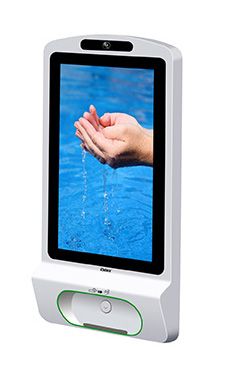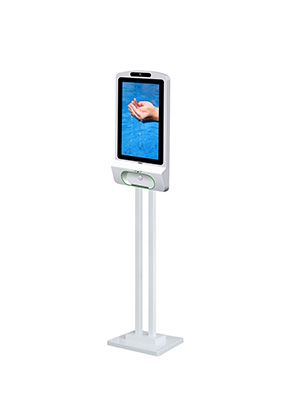 Information about Google Services

NOTE:
Google Play store is not always working in some regions, but do not be afraid: most of the times you do not need this store. You just can install your own/clients (signage) APK by USB Stick or download it from a website and install it. Quiet often, you can download APK files from www.apkmirror.com or www.apkpure.com or ask your client for the APK needed to install.
The benefit of not using the Google Playstore: you are not being watched by Google and Google will not get your userdata which you do not want to share with them anyway.

PS: if you really need Google Playstore, we can check if it is possible, but only for larger order quantites.


| | |
| --- | --- |
| Screen size | 15.6inch |
| Screen type | Non-Touchscreen |
| LCD Panel Type | TFT LCD |
| LCD Panel resolution | 1920*1080 |
| Ratio | 16:9 |
| Operation System | Quad Core Cortex A17, 1.8G , Android 7.1 - RK3288 |
| Interface - Connection portals | SD Cardreader , LAN input for Internetconnection - RJ45 , 2x USB 2.0 |
| Network options | Wifi , LAN network |
| Speakers | 2x5W |
| Memory | RAM 2GB - Internal Memory: 8GB |
| Brightness | 300cd/m2 |