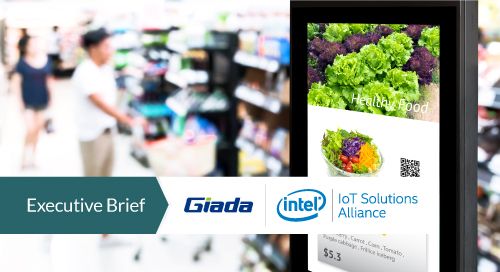 Digital experiences are more important than ever for brick-and-mortar retailers—and signage is one of the best ways retailers can engage shoppers with an in-store digital presence. But to deliver the full digital experience, retailers need to go beyond the basics of broadcasting a sales message.
Modern signage can do much more, delivering a two-way interaction between customers and businesses. New developments in sensors, analytics, and cloud computing enable signs to respond to customer behavior and help retailers update content on the fly.
It can be surprisingly easy to deploy these systems. In some cases, retailers need little more than a power outlet. And the upside can be huge, particularly at the point-of-sale (POS) checkout area, where 75% of all purchasing decisions are made.
Proven Results
Consider the experience of the restaurant industry, which has been at the forefront of the digital transformation. The majority of consumers in this market are tech-savvy users who expect highly polished digital experiences.
To meet the demands of this fast-paced industry, the signage experts at Giada Technology developed a digital menu solution for KFC. After a 3-month trial run, the KFC Digital Menu Board increased customer satisfaction by 20%, increased sales by 17%, and improved operational efficiency by 80%.
Following a similar approach, Giada equipped more than 200 Austrian pharmacies with a mobile signage system. Content messaging was handled regionally by an advertising agency with pharmacy-specific topics. Among other benefits, the pharmacies enjoyed a boost in spontaneous purchasing, increasing sell-out of advertised products.
Digital Signage Challenges
To understand how cutting-edge signage achieves these results, consider the challenges inherent to low-end solutions. With their limited capabilities, the systems can serve up only fixed messaging, and then only to a few types of displays. For example, a low-end solution might not be able to serve both large window displays and small interactive screens in the checkout area.
Low-end solutions can be difficult to set up and maintain. Getting access to a local network can be particularly problematic. Updating the content can also be a time-consuming chore.
In contrast, a modern digital retail management system can send customized messaging to multiple displays (store signage, kiosks, and mobile phones) based on timely insights into customer shopping data.
This last point is critical. Insights into the customer behavior are enabled with sensors that determine customer location and behavior. These sensors can include:
Vision systems that can analyze customer behavior, such as how long shoppers view an ad
iBeacon and other Bluetooth Low Energy (BLE) beacons, which allow the store to communicate with shoppers' smartphones
Near-field communications (NFC), which enables customers to use their phones to compete purchases and other interactions with the store
Infrared people counters that tell businesses when their stores are the busiest
The sensor and sales information is processed on the edge of the network or sent to the cloud for more detailed analysis. The result is that businesses can more accurately target specific messages, advertisements, and other information that will be updated simultaneously to all of their digital signage assets.
In other words, modern systems transform signage from a one-way broadcast channel into a bidirectional communications network that engages customers in a far more meaningful way.
Succeeding with Cutting-Edge Signage
Success in this new era of intelligent signage entails a new set of criteria. "Meeting the bidirectional communication requires visual and interactive engagement with customers and access to data analytics," explained Tony Liu, Supervisor of the Overseas Marketing Department for Giada Technology. "These are all different from past one-way interactions. And each vertical market has its own unique requirements, like restaurant, pharmacy, and movie theater markets."
According to Liu, modern signage should:
Leverage intelligent interactive displays to capture customer attention even during off-hours
Introduce products digitally to guide customer interests and augment the in-store sales process
Integrate digital and physical storefronts with media-rich signage to optimize store layouts and make in-store pickup smart, simple, and efficient
Handle updates from a single networked platform to improve the store while making management more convenient and flexible


SOURCE: https://www.insight.tech/retail/how-adaptive-signage-boosts-store-performance