Signage App - AutoPlay Video-Slides (local / online) for Android Displays - 1 time fee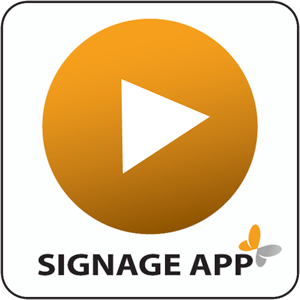 Signage App - AutoPlay Video-Slides (local / online) for Android Displays - 1 time fee
Product Code: SIGNAPP-SW01
---
30-day money-back guarantee
Free Shipping in U.S.
Buy now, get in 2 days
Signage App - for Android Displays

This Signage App displays images and videos from local and remote sources (internal memory, local network or the internet) on your Android Display. Turning the Android device into a Smart Mediascreen.
You can use it to show your media files, like JPG pictures and Video.
Additionally, it can display extra information (exif) from your pictures, including comment tags (that you can add from your computer, to describe your picture), date of creation or a mini map from where the photo was taken.
It has trigger functions so that it will start automatically at certain events.
It has extended functionality suitable for business that want to synchronize multiple devices to show content. As an example is setting up a Dropbox source and update with the dropbox boxfile with pictures / videos of offers for a shop or a chain of shops. When you change the content in your Dropbox file, it changes automatically on the Android Display, after refresh.
See below the features of this Signage App:
- Photo and video slideshow
- Show local content
- Show content from Dropbox, Instagram, Flickr, and more.
- Show map from where photos were taken
- Show exif information
- Slideshow start/stop schedule
- Limited transitions
- Limited number of sources
- Limited advanced configuration options
- Define any number of sources
- Automatically cycle between multiple sources
- Start on boot option
- Additional transitions
- External video player (use your favourite player for videos that cannot be shown with the native Android player)
- Hide background tekst
- Change color scheme
- Includes all the advanced configuration options
- Change background tekst
- Automated content synchronization (i.e. update media every x minutes)
- Ticker option to display scrolling text from RSS (news, facebook, etc.)
- Keep downloaded content on exit (i.e. cached content will display even if no network connection is available)
- Remote configuration e.g. add sources, change colors, etc. to all devices at once.