13.3inch Android Display - Touch - OpenFrame
13.3inch Android Display - Touch - OpenFrame
Product Code: AC-1332OF-AIO-T
---
30-day money-back guarantee
Free Shipping in U.S.
Buy now, get in 2 days
 13.3inch Android Display OpenFrame - Touch
Android 5.1 - RAM 2GB - 8GB Flash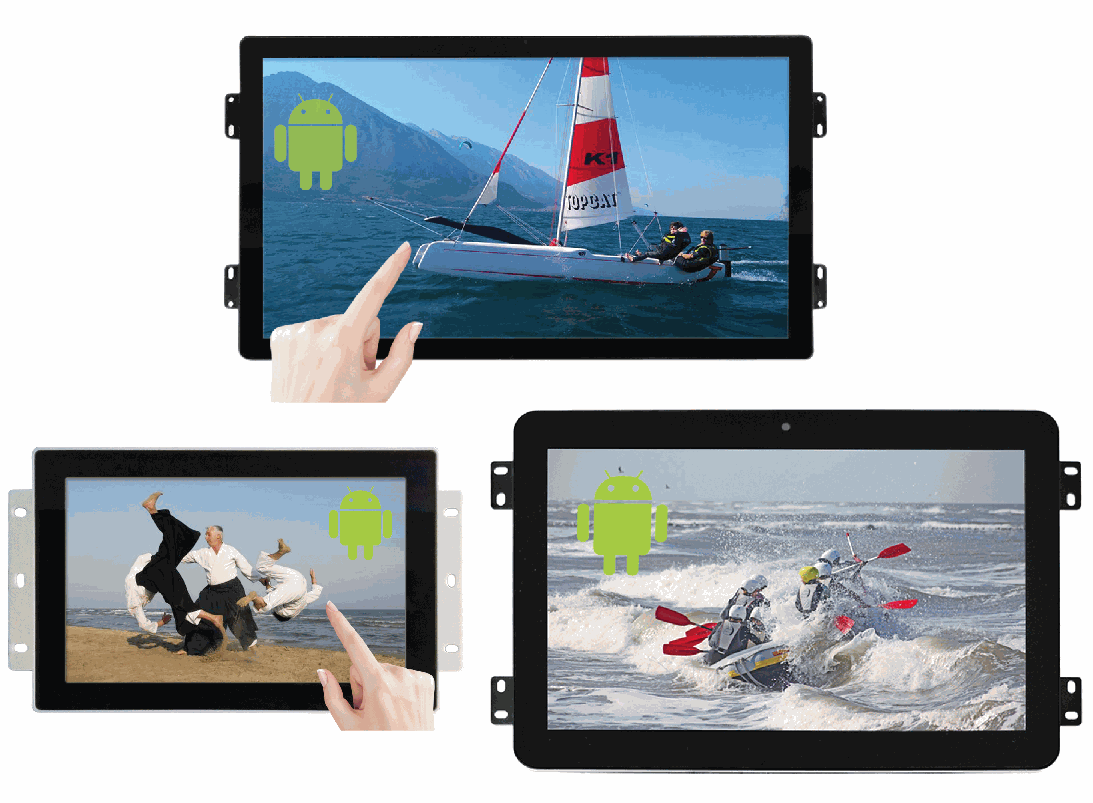 This Android Display can be used in a commercial environment. The Display has Android 5.1 operating system. This professional display can be used for several solutions to inform / advise people in an attractive way.
NOTE:
Google Play store is not always working in some regions, but do not be afraid: most of the times you do not need this store. You just can install your own/clients (signage) APK by USB Stick or download it from a website and install it. Quiet often, you can download APK files from www.apkmirror.com or www.apkpure.com or ask your client for the APK needed to install.
The benefit of not using the Google Playstore: you are not being watched by Google and Google will not get your userdata which you do not want to share with them anyway.

PS: if you really need Google Playstore, we can check if it is possible, but only for larger order quantites.
Android Displays OpenFrame  

from very small 7inch up to 55 inch!
for digital signage and kiosk with openframe housing for built-in puposes.


List of Features
easy setup and plug and play!
Auto Start when plug in the power adapter
Rooted Android 5.1 / Chip RK3288 / RAM 2GB-IM 8GB / CPU Quad core cortex A17, 1.8G
Capacitive Touch (10 point, optional Non Touch)
13.3" IPS LCD panel 1600x900 pixels (16:9 ratio)



WIFI, Bluetooth, optional LAN and 3G


SD cardreader and 1x USB portal


Internal Speakers


3.5mm Jack Output


Plastic Open Frame Housing


Color housing standard Black


12V Power adapter with 2.5 meter long cable


14/7: Usage up to 14 hours a day


Timer Clock Function (optional app)
Purposes
can be used in many places
Digital Signage Display




Built-in ShopDisplays




Advertisement Display
Shelf-edge Display
CounterDisplay
USAGE:
Plug in the power adapter, and immediately the Android display will turn on (no need to push a ON-OFF button).
You can hide the top and bottom bar in the Settings menu.
Install your software easily and lets play!
SIGNAGE SOFTWARE:
We can provide several kinds of software apps to play your content, remotely controlled, like our 'Signage App': control content by f.i. Dropbox and 'SbEND Signage'


OPTIONAL:
- We can install your software on the devices for larger order quantities
- Internal Memory can be upgraded
Similar sizes available: 6.2 / 7 / 10.1 / 13.3 / 21.5 / 24


| | |
| --- | --- |
| Screen size | 13.3inch |
| Screen type | Touchscreen - Capacitive |
| LCD Panel Type | IPS Panel |
| LCD Panel resolution | 1600*900 |
| Ratio | 16:9 |
| Optional Features | Software Systems for Digital Signage & Kiosks , SimCard Portal |
| Operation System | Android 5.1 - Rockchip RK3288 , Quad Core A17 , Rooted |
| Interface - Connection portals | SD/MMC Cardreader , USB Portal , LAN input for Internetconnection - RJ45 , 3.5mm Jack , Power Input DC 12V/1.5A |
| Resolution Internal VideoPlayer | 1920*1080 |
| Housing type | Open Plastic Frame |
| Start-Up | AutoStart by plug-in the power-adapter |
| Usage | 14/7 |
| Network options | Wi-Fi , LAN/WLAN , Bluetooth 4.0 , Mobile Network (3G-4G) - Optional by USB SIM Dongle |
| Speakers | Internal Speakers: 2x 2W-8Ohm |
| Mounting options | VESA connection , Mounting Strips |
| Memory | RAM 2GB - Internal Memory: 8GB (optional 16GB) |
| Camera | 2.0MP front camera |
| PowerAdapter | AC/DC 12V/1.5A |