Since the late 19th century, 'hands-free' and 'touchless' technology has become commonplace worldwide. Many of these developments are now an important part of our daily life. Decades of experience have enabled us to call ourselves pioneers in product development and building design. Whereas in the past a reactive design approach was used, the public now exerts an enormous influence on proactive solutions that benefit the lifestyles of many worldwide.

We discuss the history of contactless technology, the future built environment and the fact that contactless walkways in offices are more necessary than ever.

[1] The history of 'touchless'
In 1897, a small American town had the first in remote control technology in the form of a remote control model boat. With this technology, course instructions were transmitted to the model boat via radio signals. The remote-controlled boat launched the niche hobby of model boats and racing, but the technology also played a decisive role during World War I at sea. In the 1920s, entrepreneurs came up with remote control solutions for everyday applications, leading to the introduction of electric garage doors.

Integration of contactless solutions in the home environment
In the two decades that followed, this radio signal technology was used in more and more households, and the 'Flash Matic' remote control was introduced. This was a new technology for switching between television channels using light.No longer having to manually switch between channels inspired the BBC to develop teletext in the 1970s. Teletext used infrared devices which improved browsing functionality for television viewers in the United Kingdom. This was a turning point for technology enthusiasts, as the Teletext network was the first user-experience (UX) design.


Wider integration of contactless solutions
With technological solutions now available all over the house, the transition from non-contact out of doors to widespread use could be made much easier. In the late 1970s, barcode scanning was welcomed with open arms as it was a time-saving solution for both entrepreneurs and employees. For the general public, this brought more and more new solutions, leading to the RFID patenting by Charles Walton. Radiofrequency identification technology has become an indispensable part of society and has contributed to seamless user experiences and the security monitoring and tracking of information. RFID and NFC are the true foundation of contactless technology as we know it today, helping to prevent theft and monitor risk in millions of buildings worldwide. Over the past 100 years, we've seen communications, transportation, currency, and even security digitized, delivering greater accessibility. Find out how we've developed contactless technology since 2001 to develop safer and more controllable entrance solutions in this area.


The future of contactless solutions in building design
Here we highlight the already available technologies that are increasingly found in physical work environments:


Smartphone control
Smartphones have allowed contactless technology to gradually play an increasingly important role in our lives. The ability to control public devices through a personal device has already proven to be a successful method of contactless access. Since we are already familiar with using smartphones, it takes us much less time to get to know new systems or apps. Regardless of whether smartphone use is a revolutionary solution or not, it is a natural realistic development that can be implemented in the physical work environment.

Sign technology
In terms of touch technology, we need to look at the common language associated with the interaction and how we can translate that language and make it completely contactless. Shared login screens and doors can be opened with a gesture. This is possible thanks to movement equipment and sensors, which are frequently used when entering buildings but are less common for internal workplaces. As mentioned before, even smartphones use touch, so the way we interact with products may be a habit that is difficult to break.

Did you know that the gesture recognition market will have an estimated market value of $ 32.3 billion by 2025?

Voice-activated controls
With the introduction of normalized and voice-activated controls via Siri, Cortana, Google and Alexa, the transition from touch to voice activation will be even easier. This way of integration has proven successful since the introduction of remote control technology. The gradual switch to voice control is not only found indoors but can also be found outdoors via doorbells and other external environments.

The progress is in large part due to the smartphone and the technology with which voice control has been normalized. We are now already asking devices to make appointments for us and to reschedule meetings. Voice activation in cars is also widely used within the automotive sector, from navigation instructions to telephone calls. This technology could become the great evolution of the coming years as it enters the workplace through natural progression.


Face recognition
Face recognition is already widely used worldwide and provides innovative developments in the field of artificial intelligence (AI). Currently, recognition technology is mainly used as a security function and not so much as a general purpose functionality. However, the possibilities for broader employability in the workplace are increasing. Systems can automatically detect users whether entering a building or a secured area. This offers product manufacturers numerous possibilities when it comes to manufacturing products that can work on the basis of user-specific information. This information can trigger authorization procedures in specific parts of buildings and grant/revoke control over certain workplace objects.
Did you know that the contactless shipping market will have an estimated market value of $ 15.3 billion by 2025?


Think about extra security at your entrance
Given the timeliness and rapid advancements in hands-free technologies during this recent global pandemic, it may be wise to install or upgrade to a hands-free access solution for your building. You will be amazed at how easily a secure and hands-free solution can be integrated.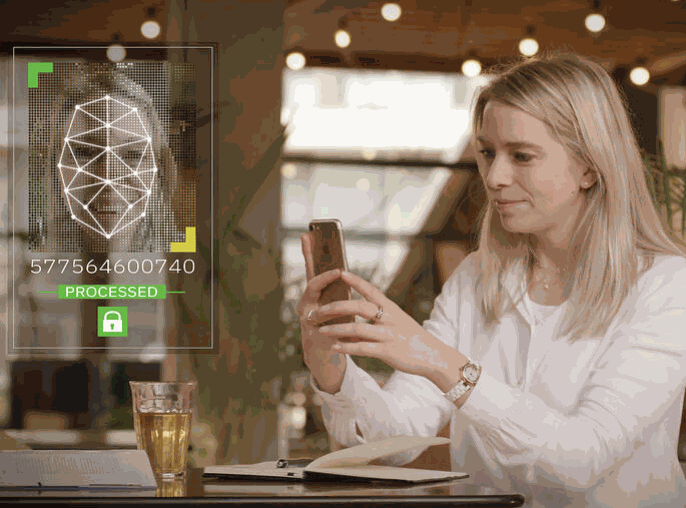 Source reference:  
[1]
Boon Edam Nederland
, Jonas Ooijevaar